About a month ago I attended a conference in Nashville called Storyline. A small part of the Storyline process that author Don Miller walked us through was examining positive and negative turns in your life—those events involving passing through a proverbial door through which you could not return. These aren't just the Major Life Events people mark on their Facebook timeline our build scrapbooks around; they can be simply formative experiences.
An example of a positive turn in my life might be my English teacher reinforcing to me that I had talent and promise as a writer and photographer in 9th grade, or my first trip to Kenya in 2009. An example of a negative turn might be my neighbor bullying me on the bus and in 8th grade Spanish class, or seeing my grandmother have a stroke in my 20s. And so on. Someone my age might have 10-15 positive and negative turns that are very much a part of who they are today.
Anyhow, part of the Storyline process is looking at those negative turns and determining their redemptive qualities. Don was quick to remind us (the conference attendees) that identifying these aspects doesn't mean we're saying it is OK that these things happened or that the positive outweighed the negative. In fact, some people's negative turns may be awful, unthinkable experiences that shouldn't happen to anyone. But he encouraged us to look at the negative turns and search for their redemptive qualities.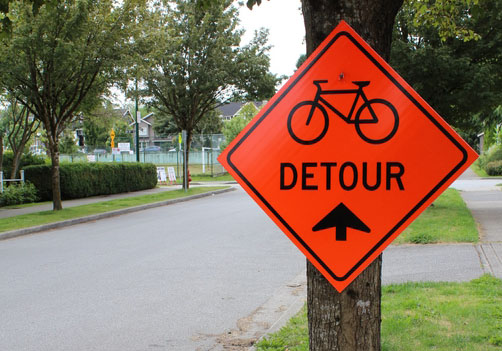 One of my friends has spent the past 10 weeks or so recovering from a nasty road cycling accident. We're talking eight fractures, a slightly collapsed lung, and road rash. Her wounds made my torn-up elbows from past crashes look like wussy little paper cuts. Despite excruciating pain Rowena welcomed many visitors into her home with cheer, turning her focus to them and their stories during each visit.
I ran into Rowena two weeks ago at a cycling event where she was volunteering, but raring to get back on the bike. When I asked her how she was feeling, she said something that set me back on my heels.
"I'm so glad this (accident) happened to me," she said, her face radiating in a wide smile. "I have empathy now." She explained that before, if she heard about someone getting injured or sick, she might have sent a card, but she's now more inclined to take action to be with that person during his or her convalescence.
The accident upended her plans for racing this year, causing her to re-examine where she'd be directing her time/efforts this year. And it left her in a place where she was relying on others when usually she's very independent. In leaning on others she realized the breadth and diversity of her network of friends and just how blessed she is. (OK, now I challenge you to not have "Lean On Me" stuck in your head for the rest of the day!)
Finally, Rowena said this experience deepened her faith and she said she has "such a greater awareness of the amazing ability of the body to heal."
Now, when I broke several vertebrae in a horseback riding accident 10 years ago, I had nowhere near the self-awareness and perspective that my friend has! I probably just whined a lot. Rowena—and friends of mine like her who have navigated rough patches recently—have helped me realize that now's my chance to sort through my backstory (what Don calls it) to figure out ways my own negative turns have equipped me for impacting others.
Thanks for allowing me to share your story, Rowena!
Your turn: What are some redemptive aspects of negative turns in your life?