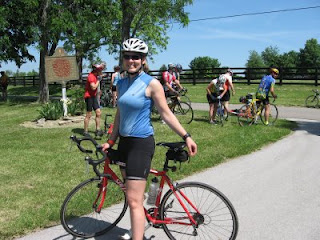 Overall, I felt a lot stronger than on my last century (September 2007, Old Kentucky Home Tour). This is good, because I did that one with sinusitis with antibiotics on-board, two days before leaving for Europe (so I was keyed up about a trip
and
sick). Regardless, I did have a few aches and pains. Time to find a new saddle, that's for sure! But my knees feel great, and my back isn't bothering me, so I am doing tons better than I was doing on the bike even a year ago! That is very encouraging.
It was a beautiful day, despite it being the hottest day of the year so far. The skies were gorgeous, and we had plenty of sweeping views of the countryside and oak-canopied stone fence-lined roads. Love them. This is definitely God's country when it comes to cycling.So, I need to figure out the heart rate thing. My amazing parents gave me a GPS/heart rate monitor for Christmas, and I'm enjoying tracking workouts with it. What I don't know is where my heart rate
should
be. What I do know is that when I put the HRM on before a ride or run, I'm sitting right about at 95 (pretty high). My max has been something like 192. I would hover for 25 minutes at 175 during parts of the ride that were hilly. I have no idea if this is good or bad–I apparently need to do some research. For example, for the first 56 miles of my ride yesterday, my average heart rate was 157. Hmmm. I don't know. Must do some reading.
The next thing I need to do is work on my climbing. Hill repeats. And I need to learn how to climb out of the saddle remaining balanced and in control. Climbing out of the saddle shoots my heart rate through the roof and basically unsettles me. It's kind of like how drafting used to be for me before I became more confident in riding in large groups.