Saturday I gave a short riding lesson to my friends' two boys, who are 10 and 11 years old. I hadn't taught kids since college, and it was a fun challenge to recall the riding instruction analogies I used 15+ years ago.
Charlie and Sam are smart, mature, and sensible for their ages. But they're 10 and 11. So there's always enough mischief to keep it interesting, if not entertaining.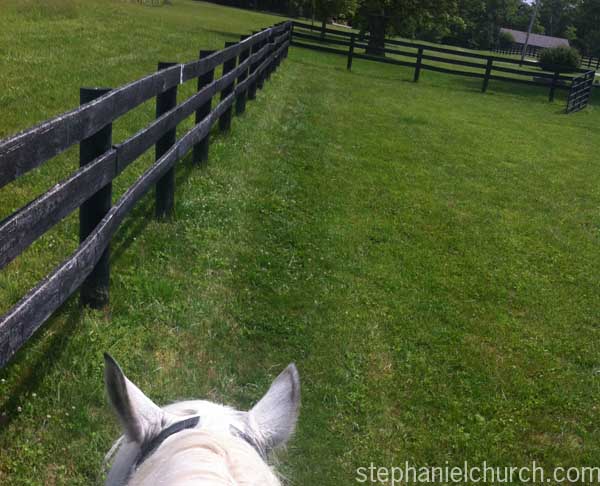 I watched Sam on Gandalf and Charlie on Hawkeye for a few minutes to assess their abilities. The boys are already very confident and capable riders, but it's important that they learn certain ways to be more effective riders on the trail. Their mom wants them to be able to regain control of the animals in emergency situations and simply communicate with their mounts better, effectively saying, "pay attention," with seat, hands, and leg.
Things were going smoothly, and I could see cues that the boys understood my instructions. Both kids were stretching their heels down when I reminded them. They grinned goofily at my spelling out the commands (so the horses won't listen to me instead of them … though I suspect Gandy might know how to spell W-A-L-K). We were working on transitions between the walk and halt and walk and trot.
Sam was correctly waiting until Gandalf was in the trot before beginning to post. Expertly, Charlie was keeping his eyes focused between Hawkeye's ears.
Then we hit a barrier. I was trying to teach them how to "dial back" on the signals they were giving to slow the horses or get them to pay attention. Sam was getting it. Charlie was not.
Then I realized I was using what could be an unfamiliar word.
"Charlie, do you know what the word 'subtle' means?"
He shook his head no.
I put on my thesaurus hat. Wasn't working too well on the weekend so I went for the first antonym I could think of.
"How about 'obvious'?"
Charlie shook his head again and grinned sheepishly.
Sam chimed in and referenced some inside joke about the word "obvious," and Charlie smiled, chuckled, and nodded enthusiastically. So then I asked him to try to do the opposite of obvious—to try to fool me by communicating with his horse in a way I could hardly see it.
It worked, and we were all on the same page again.
Later I described the experience to some friends over campfire and s'mores. I marveled at how great the boys did with a little drill ride exercise at the end of our short lesson. (My friends enjoyed ribbing me about how I managed to turn a riding lesson into a vocabulary one.)
The boys had left the arena after the short, basic lesson with a few pointers on balance, rhythm, and subtle signals. I'd left it with a fresh, new perspective on communication and individual learning styles.
Have you ever gone into a situation expecting to teach, but becoming the student instead?