Growing up in Central Virginia, my classmates and I had no lack of opportunities to learn about the birth of our country: We lived in an area saturated with historical sites and sprinkled with just about every type of museum or tour experience you could possibly imagine. With a history buff for a dad (who had been in the Army Reserves), two Uncle Bills who served in the military overseas, and many remarkable history teachers (and the most enthusiastic eighth grade Civics teacher you'll ever meet), I had every opportunity to become a patriotic person.
Regardless, I took our freedoms for granted (still do) along with the sacrifices made for them. Sure, I would melt into a puddle of tears every time an airline pilot's voice over the loudspeakers welcomed soldiers on a flight home (still do), but I remained fairly apathetic.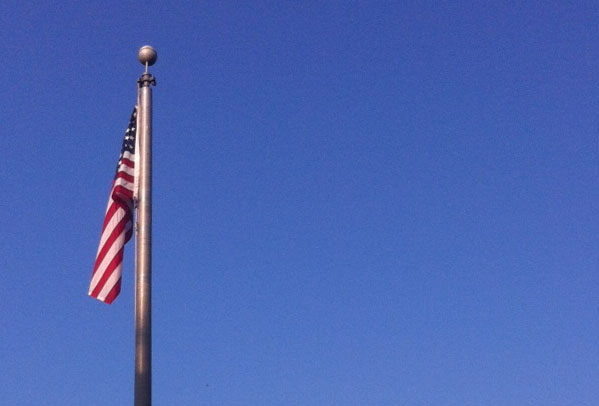 Whether it's maturity or the simple crossing of paths that happens as you get older, things started to change a few years ago. A member of a group of friends I met about eight years ago became an officer in the Navy. Right about that time, three of the girls in that friend posse went to a local dance and in one fell swoop met Army guys whom they eventually married. (Later I visited one of the couples while they were serving in Germany.) The guy who bought the house next door to me is a pilot in the Army. He's served two tours since living on our street.
You get the picture—I began seeing more of the military life and understanding it a bit better.
Circa 2006 I met and became friends with a phenomenal lady from my church who also happened to be a war widow. Her passion for supporting military families was (and still is) palpable, and hearing her many poignant stories about patriotism, faith, love, and loss, and seeing her pride in our country impacted my perspective. I really began to wrap my head around the dedication and sacrifice of service members and military families. (She has since remarried … to a wonderful man who had been in the Navy).
But I never really hung out with a service member until about five years ago, when I met a member of the Air Force who has since become a good friend. I'm not sure I've met anyone who loves his job so very much—he truly loves his country and embarked on his third tour while living in Lexington. (He wrote letters much more faithfully than I did, though I mailed him a sah-weet care package with things like packets of peanut butter, Tazo tea, and holiday hats to celebrate Christmas in the desert.)
Anyway, something I experienced for the first time when hanging out with my friend stateside happened when we'd go grab lunch and he was in uniform: At least one person would come up to him and thank him for his service and/or sacrifice for our country. Other times an anonymous person would pick up the tab on our meal. It was really lovely to see that personal expression of thankfulness by complete strangers, and I believe it bolstered his spirits.
I got to thinking this week about my What If. It's a little along the lines of last week's post (gratitude), but what if we each went out of our way to be intentional about thanking service members?
It could be a verbal "thank you" in the grocery store, a letter to a service member overseas, or even a gesture like picking up the tab, as was done for my friend many times. This sounds to me like it could be an antidote to that very safe, apathetic place that I sometimes go. Such a gesture doesn't have to be anything grandiose or expensive or even overt (you can go the anonymous route). An expression of gratitude to these folks might just be a great way to remember and honor their sacrifice and those of many others … some of whom are still with us and others who are gone. What if we did that?
Do you have a favorite way of thanking service members?
(Thank you to my family members and friends who have made sacrifices for our freedom. And thank you for impacting my life.)